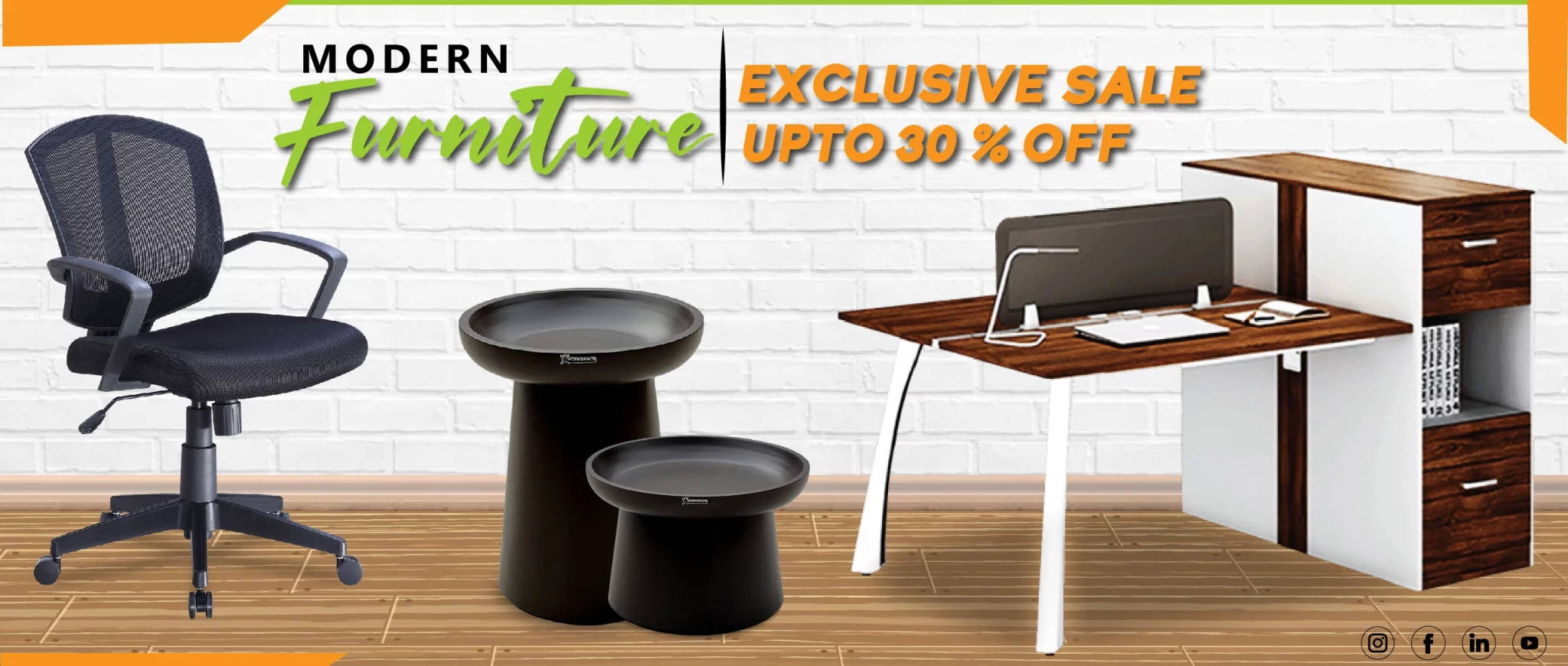 New Year Sale | Office Furniture for Sale | Office Chairs | Office Tables | Study Desks | Sofas
Workspace brings you New Year Sale, the Biggest  furniture for sale of the Year! Get Amazing Discounts on high quality office chairs, office tables and customizable furniture. Up to 30% discount on durable & best quality office furniture for sale. We bring you contemporary design furniture that can be customized as per your requirements. Furthermore, our wide range of office chairs, office table, home office setups and office accessories will transform your workplace into a unique one.
Moreover, we help you choose color schemes and textures that best suit your personality and theme. Customized office furniture for home and offices are also available upon order requests. Uniquely designed ottomans, tables, chairs, footrests bean bags and office accessories are available. When it comes to customizable office furniture, first we look into the requirements and needs of the client. Second, we design furniture according to the details we get from our clients. Last but not the least we customize and manufacture it as per client's budget.
Customizable Office Furniture for Sale |By Talented Furniture Designers & Skilled Craftsmen | Office Furniture for Sale
At Workspace office furniture for sale, this year 2022 New Year Sale helps you to discover the joy of purchasing masterpieces for your office setups. Furthermore, our space planning team will help you setting up of a space as an energizing, creative pursuit. Our dedicated and professional team of talented furniture designers and skilled craftsmen's end goal is to serve each client's furniture needs with 100% satisfaction. Similarly, the job of our quality assurance team is to make sure the durability and perfect manufacturing of furniture. Buy from our stores of office furniture in Lahore / Islamabad or you can place your order online and get it delivered to your doorstep, anywhere in Pakistan.
A Wide Range of Furniture Items on Sale | office furniture for sale
Workspace range of modern office furniture for sale like office chairs, office tables, workstations, center tables and office accessories. Our furniture stores in Lahore offer affordable prices but high-quality products, and you will not find better quality any showroom furniture in Pakistan. Moreover this year we have more than just regular furniture items, we have barstools, footrests, storage ottomans, Sofa Chairs, standing tables and much more.