Description
Carver Black Manager table
The Carver Black Manager table takes the concept of an industrial workbench into a single solution that maximizes workspace while taking up minimal space. Designed with the same industrial aesthetic in mind, it features an MS Sand grain powder coated frame with a laminated top. This table also includes a make-up panel and smart cable management to keep your desk tidy and organized at all times. It also features a side rack that provides a combination of open and hidden storage space, allowing you to keep loose office items, CPU stations, and more safe.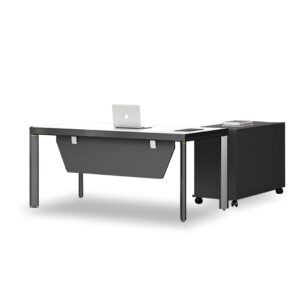 Carver Black Manager table
Size: 5'L x 30'W x 30"H
Material Options:
Frame: (MS/ SS)
TOP:   (Matt / Tactile / Gloss / super high gloss / brushed oak / Natural Veneer )
Specialty Index:  Flint manager table is at its very best when it comes to simplicity and durability, smartly designed keeping in mind the professional privacy of employees above all of this Workspace is providing customizable features e.g. table tops, cabinet & cable management systems. So days of ordinary workstations are over.
High Quality & Imported Office furniture
Workspace is providing high-quality, office chairs which are further categorized into executive, manager, staff, and multi-use purposes. Along with quality chairs, we are providing durable office tables and workstations made of the best quality material. On top of it, you can also customize your product. To complete the look and to create an incredible ambiance, we have a wide range of office accessories. So choose wisely while purchasing office furniture. Workspace is the one-stop solution for all your office requirements and needs.
Our products are incredibly unique and modern because our team focuses on trends and updates product design accordingly. You will find a wide range of office chairs, office tables, active workstations, and office accessories in so many different colors and designs. We are the only one selling amazing office chairs in different colors, our office chairs are designed to maintain the correct posture, to be more comfortable and productive. Workspace is the only brand in Pakistan that is offering up to 3 years of warranty on office chairs and product customization.
Workspace has a variety of office chairs, including Executive chairs, Executive Office tables, Manager chairs, Staff chairs, and visitor/multiuse chairs. For further details and queries, you can reach us on Facebook, Instagram, LinkedIn, and WhatsApp. Also, get updates on our commercial projects from our YouTube channel.