Description
Your workplace deserves a durable office chair. So, fill your office with stylish and durable office chairs by workspace. Shop this ergonomically designed Vintage Visitor Chair(B) in black and experience the leisure of comfort with incredible features:
Polyester foam back and seat with Grade A Leatherette
Solid Chrome finish with padded armrest
Luxury Aluminum alloy base C-3
3-years Exclusive workspace warranty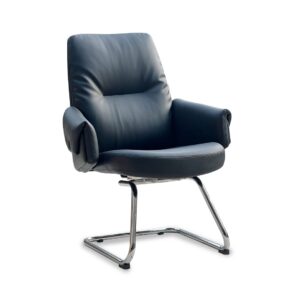 Workspace has variety of incredible office furniture including office chairs, office table, office accessories and gaming furniture. If you are looking for any office solutions in Pakistan, don't worry, Workspace has got you covered. We have done so much commercial projects be it an organization, an institute or any space by providing them stylish and comfortable office furniture. If you are wondering about the delivery of office furniture, don't worry, we deliver office furniture all over Pakistan.
Workspace is here to satisfy your fantasies in case you are opening an office and you need an office furniture store in Lahore, Islamabad, or anyplace in Pakistan. Firing up without any preparation can be a mind-boggling task. Similarly, now and again you need to make the change both rapidly and surprisingly. The right office furniture doesn't simply have to look great it needs to assist you with accomplishing your best work. Ponder what it will take to make your workspace incredible before you purchase office furniture. Make those fantasies a reality.
Excellent and Imported Office furniture
Workspace is giving excellent, office seats which are additionally ordered into chief, director, staff and multiuse reason. Alongside quality seats, we are giving sturdy office tables and workstations made of best quality material. Additionally, on top of it you can likewise tweak your item. To finish the look and to make and staggering mood, we have a wide scope of office frill. So pick astutely while buying office furniture. Work area is one stop answer for all your office necessities and requirements