Description
Specter executive Chair by
workspace
beautifully designed with features that reflect your workplace:
Adjustable neck rest
SHS grade 4 gas cylinder
adjustable lumbar support
3 years workspace warranty
Complimentary:
– Space Planning – After-Sale Services
Note:
1. 50% to 100% payment required in advance. After placing an order, you will receive a call from one of our representatives. 2. Client can claim a warranty for the products within the warranty timeline. After that additional charges  incurred. 3. Delivery timeline: up to 7 business days 4. Overnight shipping  charged separately
0311-1281111
www.workspace.com.pk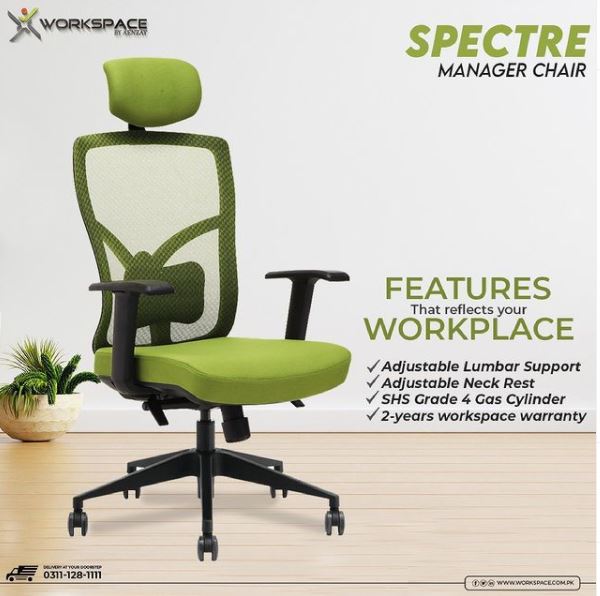 Workspace is here to satisfy your fantasies in case you are opening an office and you need an office furniture store in Lahore, Islamabad, or anyplace in Pakistan. Firing up without any preparation can be a mind-boggling task. Similarly, now and again you need to make the change both rapidly and surprisingly. The right office furniture doesn't simply have to look great it needs to assist you with accomplishing your best work. Ponder what it will take to make your workspace incredible before you purchase office furniture. Make those fantasies a reality.
Excellent and Imported Office furniture
Workspace is giving excellent, office seats which are additionally ordered into chief, director, staff and multiuse reason. Alongside quality seats, we are giving sturdy office tables and workstations made of best quality material. Additionally, on top of it you can likewise tweak your item. To finish the look and to make and staggering mood, we have a wide scope of office frill. So pick astutely while buying office furniture. Work area is one stop answer for all your office necessities and requirements