Frequently Asked questions
Do workspace offer warranty on office chairs?
Workspace is offering 2 years Exclusive Warranty on a wide range office chairs. It assures you the chairs you buy are of good quality and don't contain manufacturing defects. Workspace is the only brand in Pakistan Providing 2 to 3 years warranty on ergonomically designed high quality office chairs. We are selling office furniture with best features. Workspace is providing warranty on all types of chairs as follows
Executive Office Chairs
Manager Office Chairs
Staff Office Chairs
Multiuse Office Chair
Can i get my product customized?
Yes, the client can get their products customized. Workspace do offer customization services. The client can customized their product as per their needs and desires like if you want to change the design or the material of table top, table frame, drawers, side racks and other plug and play options, you can easily get it done. Our professional team allows us to go one step further to create and visualize dynamic working environments according to the requirements and needs of the client. We provide High quality customizable furniture for office. Customization will be done as follows: 
Table Top, whether you want to go for high gloss or Matte look 
Side racks and drawers
Table frames and front panels
Custom design detailing
Brushed Sockets and technology boxes installation
Center partitions with soft boards
Workspace office chairs are designed ergonomically or not?
Workspace office chairs are designed ergonomically. All office chairs should be ergonomically designed and workspace has kept this thing in mind. Basically ergonomic chairs are designed to work smoothly with human body, to help your employee to maintain the correct posture and sit comfortably. Our ergonomic chairs will help your employees to be more productive.
Do workspace have home office setups?
Yes workspace do have home office setups. Due to coronavirus, millions of people are working from home. That said, workspace do have home office setups that range wildly from lavish ergonomic dream spaces to the bare necessities. Workspace is providing one stop solution for all your home office needs. Customization is also available in our home office setups. We have high quality and sleek home office tables and office chairs which are modern in design and have incredible features.
Space planning services are complimentary or not?
Space planning services are complimentary. Space planning services starts with an in-depth analysis of how the space is to be used and workspace is offering complimentary Space Planning services to organize the space, office furniture, and functions to work together and most effectively accommodate the needs of the employees and visitors. 
Working environment review and consultancy
Measurements of the area and customizable office furniture suggestions accordingly
Ideas to enhance the ambiance of your workplace
Space usage investigation
After Sale Services are available?
Yes, Workspace do provide after sale services and that is complimentary too. We strongly and beautifully value a long-term relationship with our clients by providing them after sales customer services and special offers on their next purchase. That's why national and multinational companies are our permanent clients from years 
End users support
After-sales services
Warranty services
Maintenance (beyond warranty)
Post occupations services
Workspace is here to fulfil your dreams, if you are opening an office and you need office furniture store in Lahore , Islamabad or anywhere in Pakistan. Starting up from scratch can be an overwhelming task. If you don't know from where to begin or what is required to start an office, these resources and furniture by workspace will help you. Sometimes you have to make the transition both quickly and unexpectedly. The right office furniture doesn't just need to look good– it needs to help you do your best work. Think about what it will take to create your workspace great, before you buy furniture. Make those dreams a reality.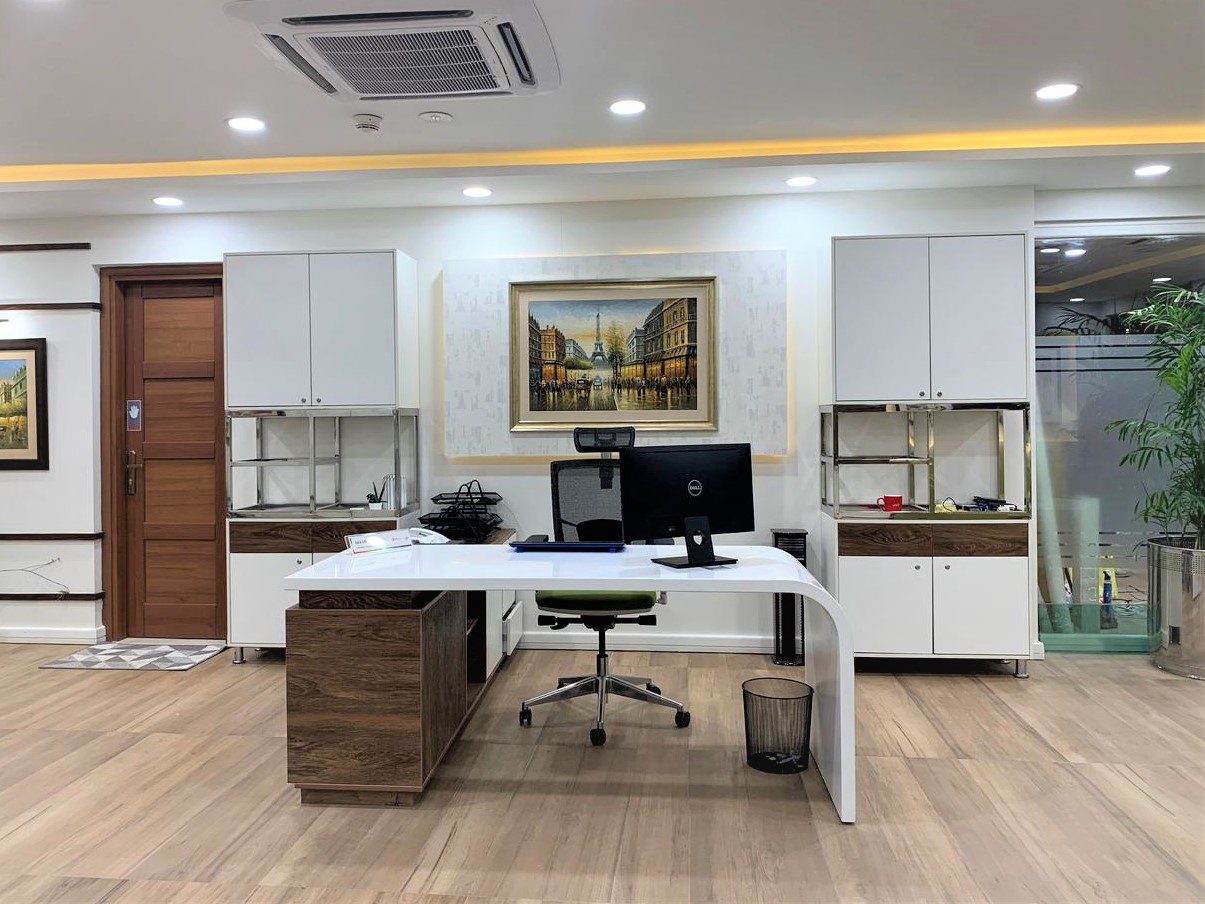 High Quality & Imported
Workspace is providing high quality, office chairs which are further categorized into executive, manager, staff and multiuse purpose. Along with quality chairs, we are providing durable office tables and workstations made of best quality material. On top of it you can also customize your product. To complete the look and to create and incredible ambiance, we have a wide range of office accessories. So choose wisely while purchasing office furniture. Workspace is one stop solution for all your office requirements and needs
Why Choose Us?
Our products are incredibly unique and modern, because our team focus on trends and update product design accordingly. You will find a wide range of office chairs, office tables, active workstations and office accessories in so many different colors and designs. We are the only one selling amazing office chairs in different colors, our office chairs are designed to maintain the correct posture, to be more comfortable and productive. Workspace is the only brand in Pakistan that is offering up to 3 years of warranty on office chairs and product customization.