Workspace provided the best quality office furniture included office chairs, office tables, workstations, reception tables, and office sofas to give this office a perfect look. According to the requirements of the client, we had to design the furniture according to the space as well as theme. Our efforts towards client satisfaction have led us in offering a reliable range of furniture like durable and ergonomically designed chairs and table. Proper signage's on the reception area placed for branding purposes. Moreover, to give this space a fresh and lively look we added some beautiful planters in the corner areas. our space planning team got the modern chairs and office tables designed after measuring the area. 
Eiffel estate office is one the outstanding projects that workspace has finished with maximum productivity. In order to meet our client's demands for their team to work in comfortable environment. Accordingly, we have given luxurious, imported and attractive furniture. Unlike boring and traditional furniture, we customize furniture as per client's requirements. Moreover, our top priority is the comfort ability of the person using our furniture and that's why we design ergonomics. Generally, ergonomics furniture provide comfort to the user.    
RECEPTION AREA FURNITURE | office furniture
High quality modern reception table is design with Eiffel Estate Logo for branding purposes. Furniture of reception area should perfectly reflect the vision of the company. Our furniture designers with modern tastes believe that furniture should be modern as well as good in functionality and usability. So for better experience, unlike other office furniture companies in Pakistan, workspace design and manufacture furniture of dreams.
STAFF AREA FURNITURE | Office furniture
 In Staff Area office tables made of high-quality MDF top and MS sand grain powder coated frame. Another thing is that furniture for staff area should not  placed without proper space planning. So before executing a project and manufacturing furniture for that we send our space planning team to the site. First the take measurements of the space, second, they look into the details that which is the most suitable arrangement of the furniture. And third they come up with a proper plan for furniture placement.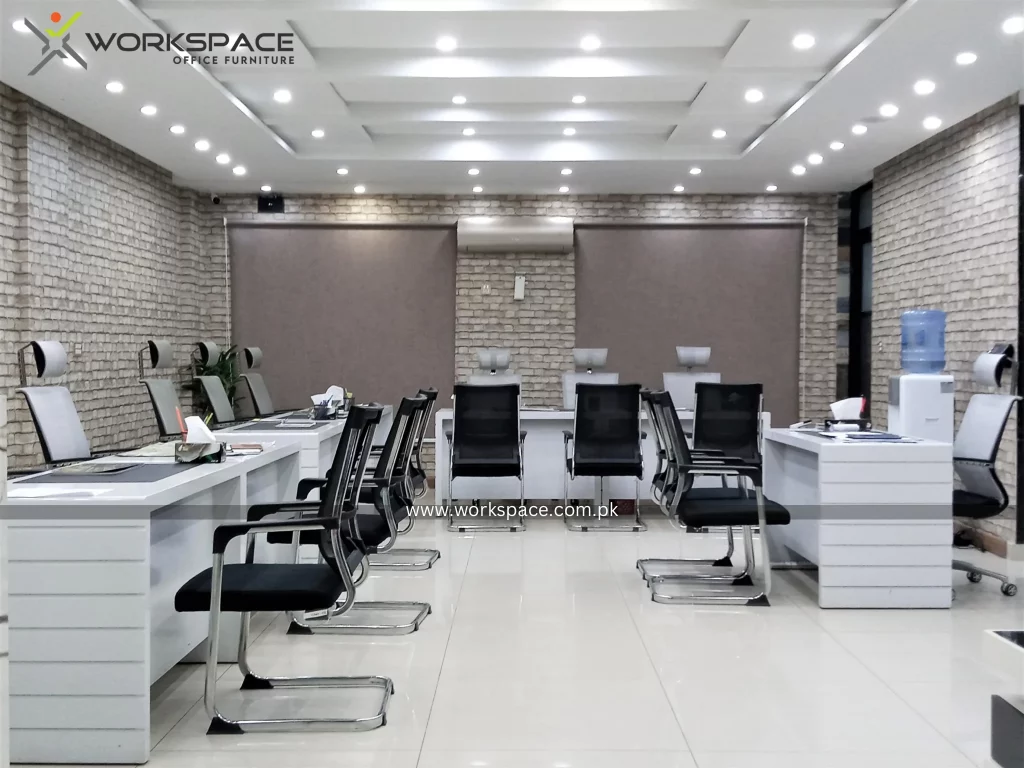 Waiting area furniture is design by keeping in mind the color theme and space planning. In addition to that, as per space requirement and functionality, we choose furniture type accordingly. As a result, we choose comfortable and sleek office sofas for this space. In addition, we customized a simple yet elegant center table for waiting area. Last but not the least how can we forget planters? Planters are beautifully adding calm and soothing vibes in this space.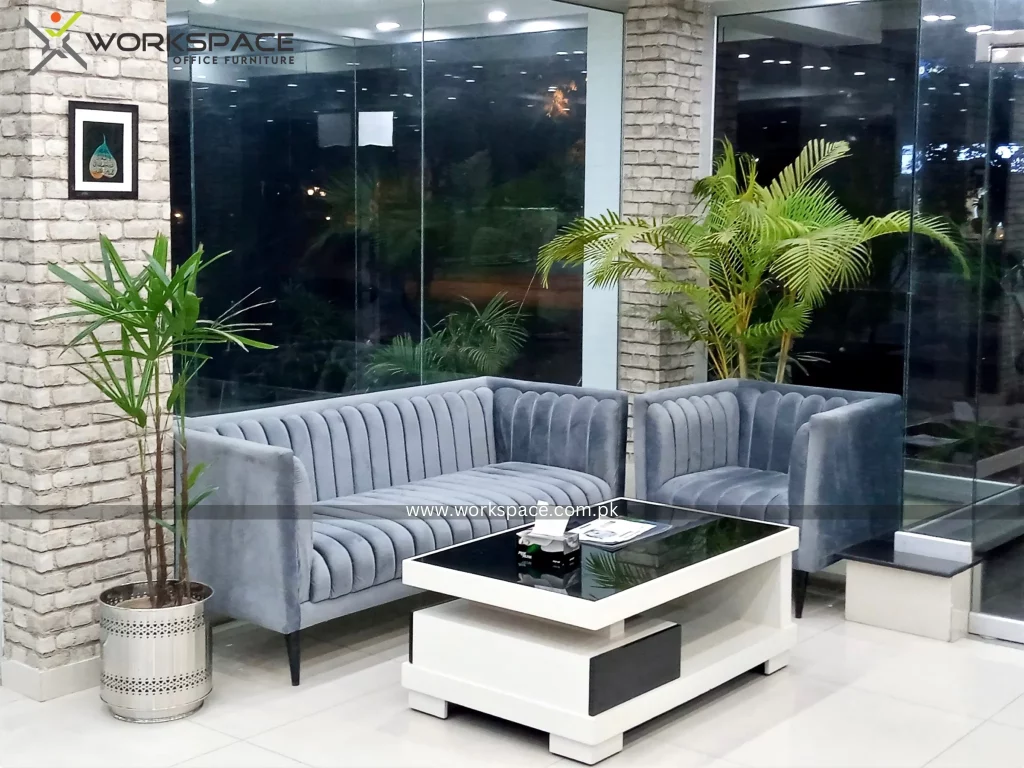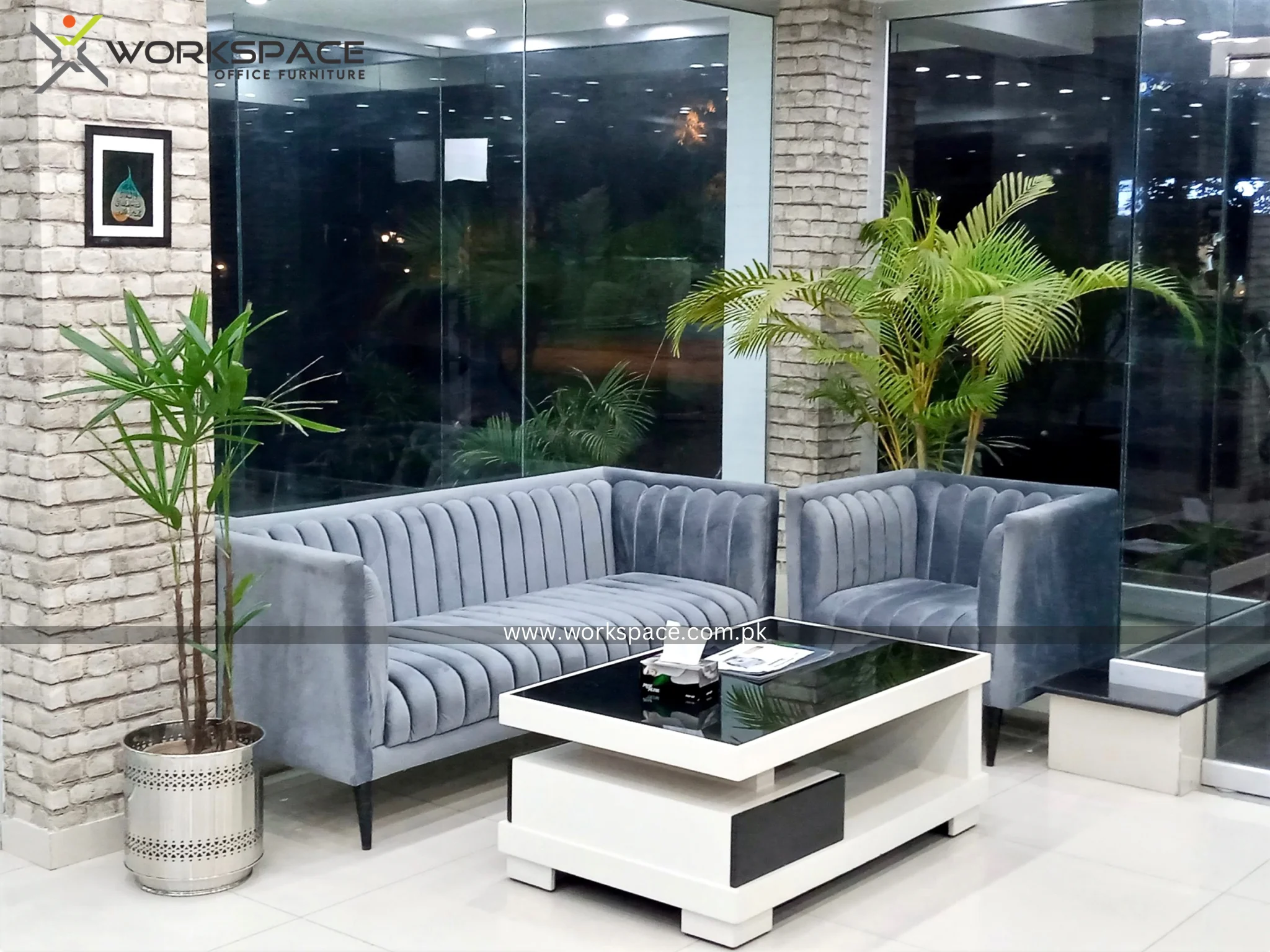 When it comes to upgrade and adorn meeting rooms, we choose simple, sleek and corporate decor elements. Similarly, we customized and design office furniture with distinction for this meeting room. Workspace provides furniture that looks absolutely elegant and enhances the productivity of employees. Significantly this meeting room was having a lot of space to cater 12 to 14 office chairs. So accordingly, we designed this sumptuous meeting room and provided executive chairs along with that.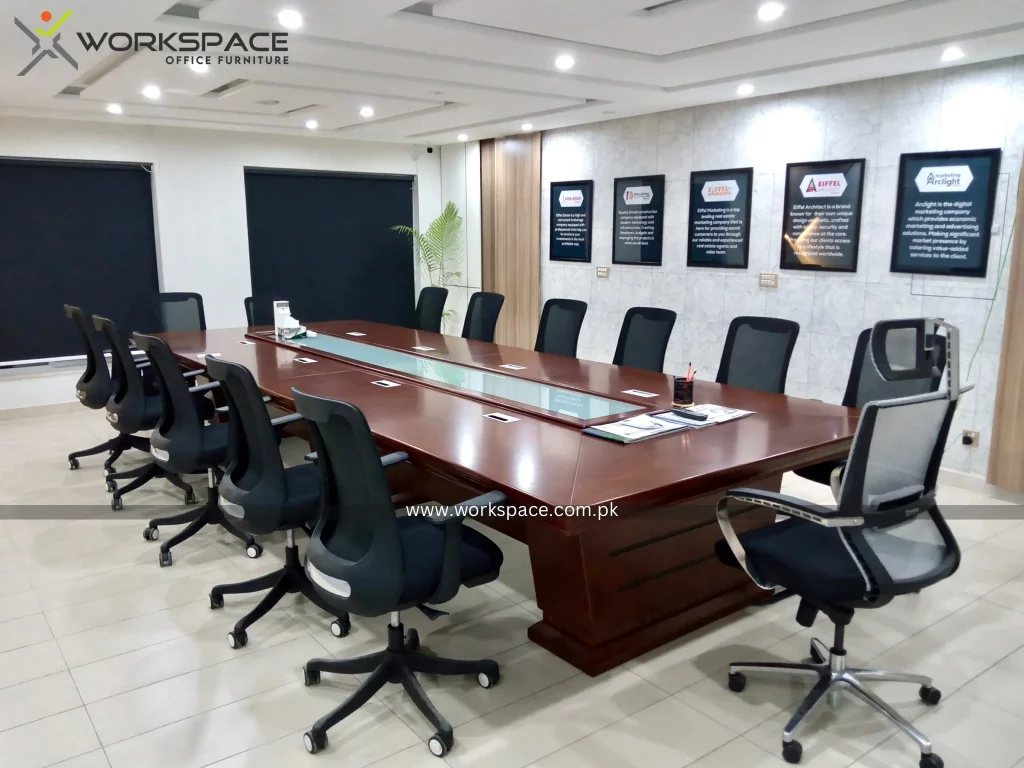 MANAGER ROOM OFFICE FURNITURE
To illustrate the look of this manager office we customized furniture to redefine the ambiance of this room. So, we believe that productivity is directly associated with comfort and for providing comfort we designed this executive table. As a result, this high-quality manager office table is made of laminated AL Noor top and MS sand grain powder coated frame. Moreover, side rack with customizable drawers and cabinets are provided. Furthermore, some visitor chairs and sofas with center tables are provided for the visitors.
Last but not the least, we customized workstations as per area measurements and client's requirements. Center partitioned workstations are made of high quality MDF top and MS sand grain powder coated frame is used in the structure. Motivational quotes are embedded on the walls to inspire and motivate the employees. Last of all, staff chairs are provided along with workstations which are again ergonomically designed.
LET'S START SOMETHING GREAT